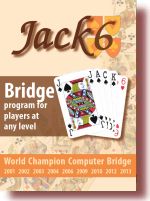 Welcome on Jack's website.
Jack is the ten times World Champion Computer Bridge of 2001, 2002, 2003, 2004, 2006, 2009, 2010, 2012, 2013 and 2015. Bridge players from all over the world welcomed its exceptional bidding and playing strength. Praised for its user friendliness and
extensive possibilities
.
*** BREAKING: JACK WORLD CHAMPION 2015 ***
On August 15 Jack captured it's 10
th
World Title in
Chicago
.
Jack 6 the best you can get! Windows 10 compatible.
Press center
In the spring of 2005 Jack challenged various top Dutch players. We reported on these matches in four instalments.
Helpdesk
Please check our FAQ if you encounter problems. If the problem is not listed you can contact our helpdesk.
Download center
Jack is available as a download, Windows-pc's only.
Sales information
Other
Jack 6 is easy to use on your netbook. Jack 6 requires the software to be activated after which the program runs without inserting the CD.